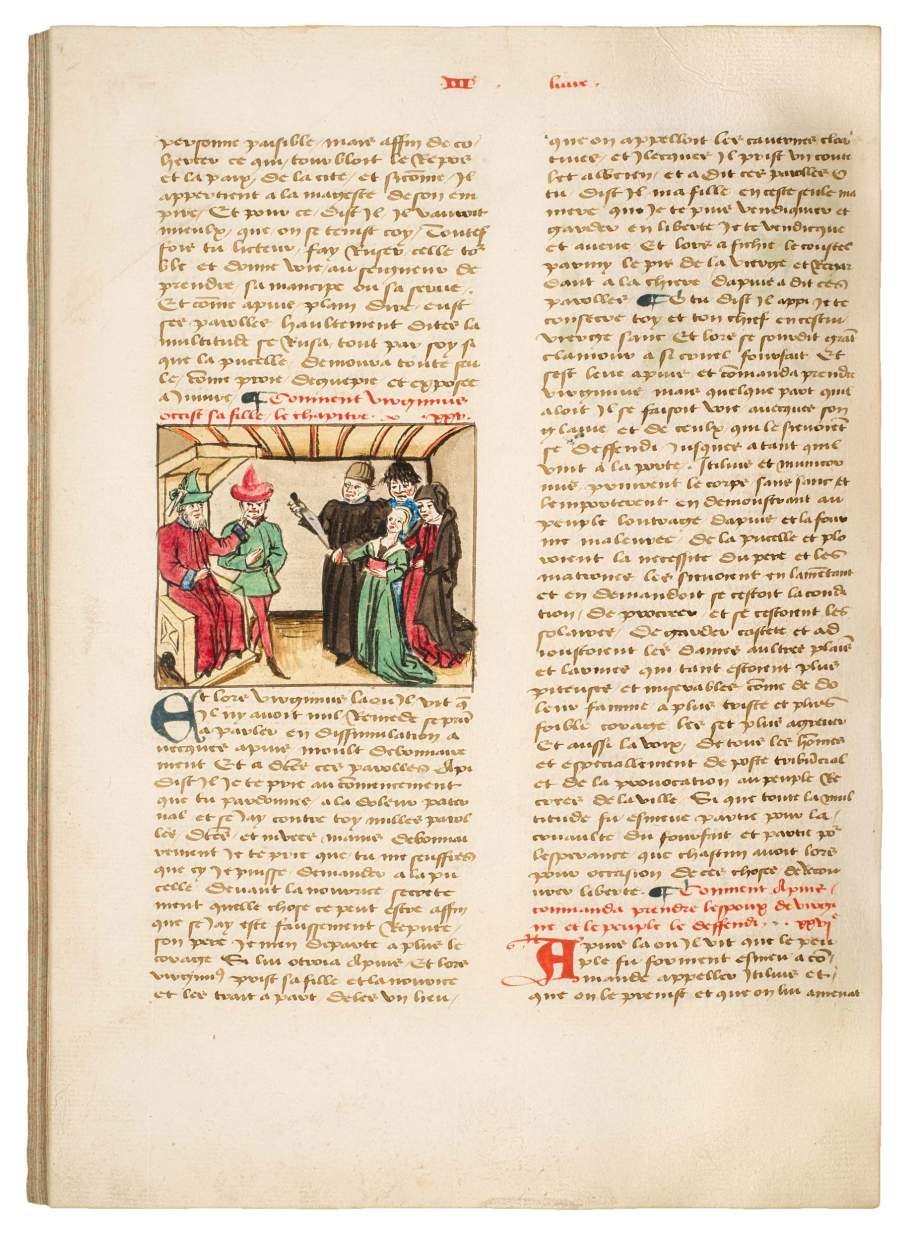 Close
1
/
6






Livy's Famous History of Rome - the First Decade
Master of the Champion des Dames
,
French Flanders, Lille
,
c. 1470
Titus Livius' 'History of Rome' was the first important text from Latin antiquity to be translated into French. Commissioned by the King of France, Pierre Bersuire, who was a Benedictine monk and friend of Petrarch's, completed his translation around 1358. The text remained very popular through the end of the Middle Ages.
Price on request
%3Cdiv%20class%3D%22artist%22%3E%3Cspan%20class%3D%22artist%22%3E%3Cstrong%3EMaster%20of%20the%20Champion%20des%20Dames%3C/strong%3E%3C/span%3E%3C/div%3E%0D%3Cdiv%20class%3D%22title%22%3E%3Cem%3ELivy%27s%20Famous%20History%20of%20Rome%20-%20the%20First%20Decade%3C/em%3E%2C%20c.%201470%3C/div%3E%0D%3Cdiv%20class%3D%22medium%22%3EManuscript%20on%20paper%2C%2013%20pen-and-wash-drawings%2C%20presentation%20scene%20illuminated%20with%20gold%3C/div%3E%0D%3Cdiv%20class%3D%22dimensions%22%3E376%20x%20266%20mm%3C/div%3E
Roman history brought to life in gilded illustrations
Overview
The great history of ancient Rome, Ab urbe condita, written by Titus Livius (59 B.C.- A.D. 17), originally comprised 142 books, divided into 'decades' of ten books each. Only Decades I and III-IV were known in medieval times, until some of the books thought lost were rediscovered in the Renaissance. The present large volume contains the first decade of ten books.
Around c. 1350, King Jean II le Bon of France (1350-1364), commissioned the Benedictine monk Pierre Bersuire to make a translation in French. Completed c. 1358, it was the first translation of any major classical text into the French vernacular. The translation was then revised and edited at the court of King Charles V of France (1364-1380), probably by Raoul de Presles and others, and was provided with chapter titles, marginal notes, and pictorial cycles.
The illustrations of the present manuscript focus mainly on the stories of Lucretia and Virginia, exemplifying the violent world these women faced, as well as their exemplary virtue. The figures are dynamic and expressive, and with its emphasis on the unfortunate fates of renowned females, our manuscript may have been destined for the education of noble women.
Interested to learn more about Livy? Watch our video here on Les Décades.
Back to list