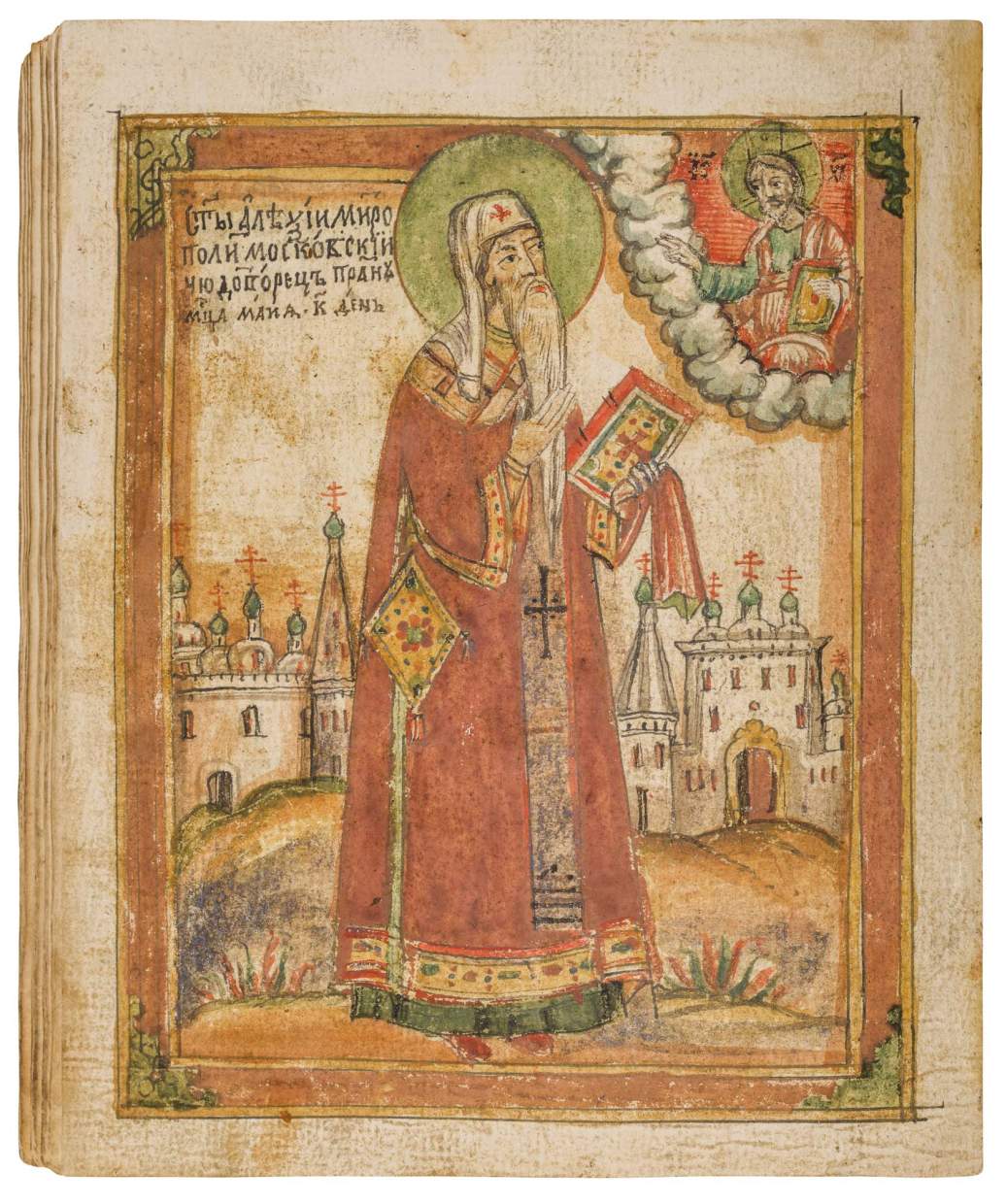 Close
1
/
2


The Miracles that Ended a Russian Plague
A Russian manuscript describing the 'Miracles of the Shuya-Smolensk Icon of the Mother of God,', which are said to have ended a plague in the town of Shuya. With illustrations of the icon and of St. Alexius
%3Cdiv%20class%3D%22title%22%3E%3Cem%3EThe%20Miracles%20that%20Ended%20a%20Russian%20Plague%3C/em%3E%2C%201771%3C/div%3E%0D%3Cdiv%20class%3D%22medium%22%3EIlluminated%20manuscript%20on%20paper%2C%20written%20in%20brown%20ink%20with%20rubrics%20in%20red.%20Ornamental%20title-border%20in%20contemporary%20colours%2C%20and%202%20full-page%20inserted%20decorated%20water-colour%20drawings%20in%20pen%20and%20ink.%20Binding%3A%20Contemporary%20dark%20brown%20full%20calf%20over%20wooden%20boards%3C/div%3E%0D%3Cdiv%20class%3D%22dimensions%22%3E206%20x%20168%20mm.%20212%20leaves%20total.%3C/div%3E
The first sketches changed when the artist wasn't looking and a bright light from the icon lit up the church
Overview
This fascinating manuscript is one of few copies of the Miracles of the Shuya-Smolensk Icon of the Mother of God, concerning a plague of 1654 in the town of Shuya, eighty kilometres west of Moscow. It is written in Russian and contains two full-page miniatures.
In response to the disease ravaging their town, the parishioners of the Resurrection Church asked the iconographer Gerasim Tikhonov Ikonnikov to paint a 'Smolensk' Hodegetria icon, an image of the Virgin holding Jesus at her side while pointing to him as the Saviour. During the painting process, miraculous events began to occur: the first sketches changed when the artist wasn't looking, and when he finished the painting and the parishioners visited it, an unusually bright light came from the icon, illuminating the entire church. The plague eventually faded from the town, but Gerasim Ikonnokiv and his entire family unfortunately succumbed to it.
The icon continued to achieve miracles, however. By 1800, 109 miracles were recorded; most involved the healing of those afflicted by blindness. The present text is one of the only copies of a report drawn up by Archbishop Stephan of Sudzal and Torussk (upon orders of Tsar Alexei Mikhailovich) after visiting the Shuya icon. It documents the testimonies of clergy and parishioners.
The decoration in this manuscript is colourful and reflects the Russian church architecture of the time. The icon of the Mother of God is pictured, as is St. Alexius (before 1296-1378), namesake of Alexis Sentsov, a prominent merchant in the Volga region, for whom this manuscript was possibly written.
Back to list