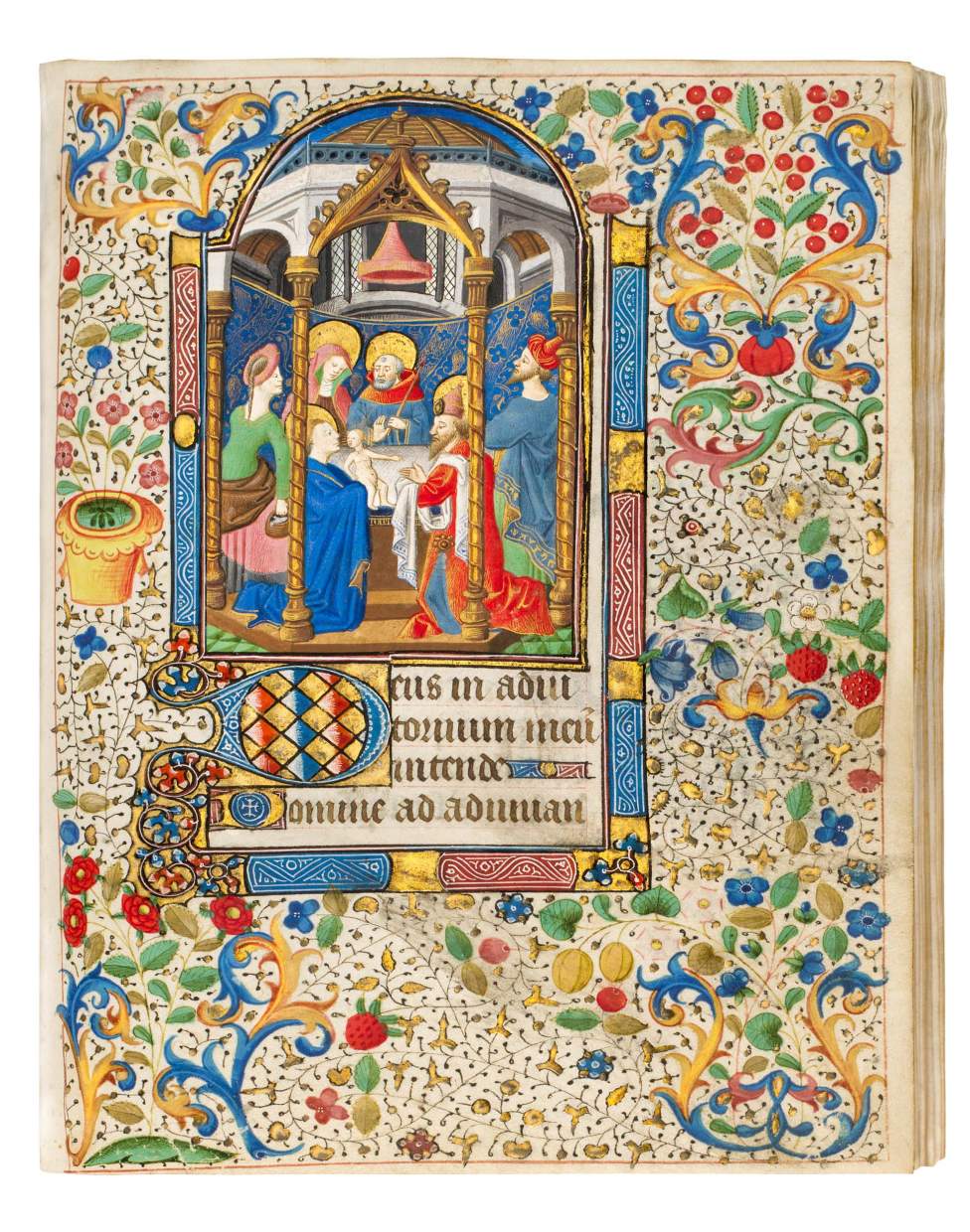 Close
1
/
3



Marguerite de Breda's Beautiful Book of Hours
Dunois Master and associate
,
Paris, France
,
c. 1470
A beautifully illuminated Book of Hours once possessed by Marguerite de Breda, presumed to be one of the Breda family who moved from The Netherlands to France in the 16th century.
€240'000 (VAT not included)
%3Cdiv%20class%3D%22artist%22%3E%3Cspan%20class%3D%22artist%22%3E%3Cstrong%3EDunois%20Master%20and%20associate%3C/strong%3E%3C/span%3E%3C/div%3E%0D%3Cdiv%20class%3D%22title%22%3E%3Cem%3EMarguerite%20de%20Breda%27s%20Beautiful%20Book%20of%20Hours%3C/em%3E%2C%20c.%201470%3C/div%3E%0D%3Cdiv%20class%3D%22medium%22%3EManuscript%20in%20Latin%20and%20French%20on%20vellum.%20Binding%3A%20second%20half%20of%20the%2016th%20century%2C%20brown%20calf%2C%20gilt%2C%20decorated%20at%20four%20corners%20on%20front%20and%20rear%20cover%2C%20each%20with%20a%20central%20medallion%2C%20including%20the%20Crucifixion%20with%20Virgin%20and%20St.%20John%3B%20the%20owner%20mentioned%20on%20both%20covers%20MARGVERITE%20%28front%29%2C%20DE%20BREDA%20%28back%29.%3C/div%3E%0D%3Cdiv%20class%3D%22dimensions%22%3E185%20x%20145%20mm%2C%20187%20leaves%2C%209%20almost%20full-page%20miniatures.%20%3C/div%3E
Nine exquisite miniatures illustrating the Life of Christ
Overview
An elaborately illuminated Book of Hours, complete with a history regarding Marguerite de Breda, one of its earliest owners. She presumably moved from the Netherlands to France with the Breda family, where one relative was in the service of King Louis XII. The book may not have been commissioned by the lady, however, as it was made some decades before her move, and was perhaps made for someone with a special devotion to St. Stephen, as there is a prayer to this saint especially included.
The Dunois Master, in whose style the Annunciation is painted, is characterised by heavy eyelids and bright, vivid colours. The second illuminator, who created the remaining scenes, crafts angular faces and can stylistically be placed somewhere close to the Maître de Jean Rolin and the Dreux Budé Master. The borders are wonderfully ornate, with wine leaves and dots of burnished gold.
See this item in our publication Celebrating the Past and In Pursuit of Masterpieces.

Back to list