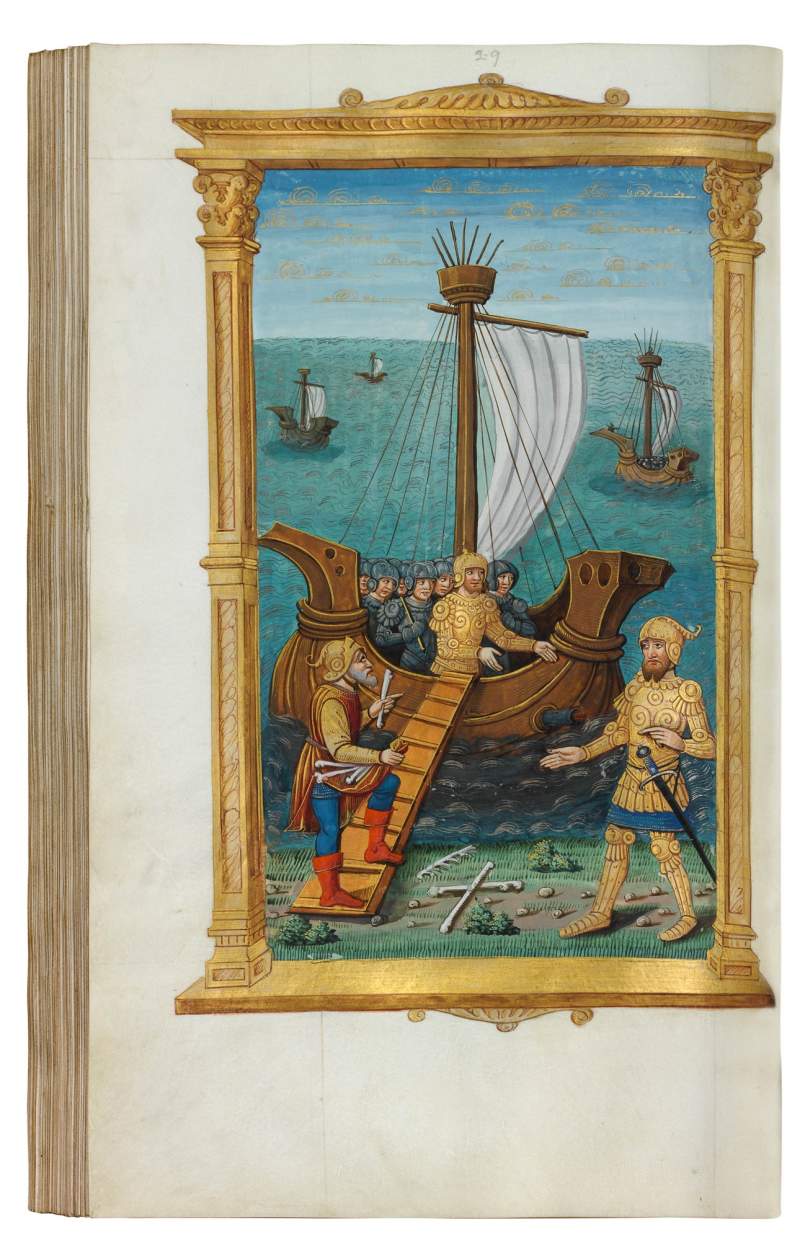 Close
1
/
13













Classical Models for the Education of the Duke of Lorraine
Master of Philippa of Guelders - Jean Coene IV - Master circle Pichore
,
France, Paris
,
c. 1508
The 'Lives of Romulus and Cato the Younger', commissioned by the Duchess of Lorraine for her oldest son and heir, Antoine of Lorraine (1489-1544). This lavishly illuminated manuscript was part of a grand collection of instructive literature. This book is in breath-taking condition and of great importance to the heritage of France and the Grand Est.
%3Cdiv%20class%3D%22artist%22%3E%3Cspan%20class%3D%22artist%22%3E%3Cstrong%3EMaster%20of%20Philippa%20of%20Guelders%20-%20Jean%20Coene%20IV%20-%20Master%20circle%20Pichore%3C%2Fstrong%3E%3C%2Fspan%3E%3C%2Fdiv%3E%0D%3Cdiv%20class%3D%22title%22%3E%3Cem%3EClassical%20Models%20for%20the%20Education%20of%20the%20Duke%20of%20Lorraine%3C%2Fem%3E%2C%20c.%201508%3C%2Fdiv%3E%0D%3Cdiv%20class%3D%22medium%22%3EIlluminated%20manuscript%20on%20vellum.%3C%2Fdiv%3E%0D%3Cdiv%20class%3D%22dimensions%22%3E350%20x%20220%20mm.%20%E2%80%93%20218%20leaves%2C%2054%20full-page%20miniatures%2C%20several%20notes%20for%20the%20illuminator.%20%3Cbr%20%2F%3E%0A%3Cbr%20%2F%3E%0A%3C%2Fdiv%3E%3Cdiv%20class%3D%22price%22%3ESold%3C%2Fdiv%3E
54 monumental miniatures present a wealth of images of late medieval life
Overview
This book is now sold.
This lavish manuscript was commissioned by the duchess of Lorraine, Phillippa of Guelders for her oldest son and heir, Antoine of Lorraine (1489-1544), as part of a grand collection of instructive literature. The Greek historian Plutarch (c. 46-120 AD) is best known for this series of Parallel Lives of Greeks and Romans, biographies of famous Greeks and Romans, arranged in pairs to highlight moral virtues and vices.
The lives of Romulus and Cato the Younger had much to teach a young prince who moved in the circle of the French kings, first Louis XII and next François I. Romulus was exemplary for his inspired military and political leadership in early Rome, and Cato for his stubborn tenacity against corruption and in upholding republican values against the dictatorship of Julius Caesar.
This manuscript contains 54 monumental miniatures, each as large as a panel painting, in detailed architectural gilt-frames, all in breath-taking condition. The secular themes present a wealth of images of late medieval life, of architecture and garden design, of machines used for building and warfare, of fashion and weaponry, but also of political assassinations and state funerals. We see Pompey the Great in his garden, counting coins (as a bribe) into the hands of men. We can observe followers of Cato protesting in anger on the Forum – with torches and spears – against the alliance between Pompey and Julius Caesar – while a soldier throws a jug of excrement over Cato's supporters. Another miniature shows Julius Caesar on a white horse, leading his troops, or Caesar writing a letter to the senate, received by a messenger who next hands it to a group of senators.
Three great Parisian illuminators contributed to the book, all known from important other work produced for the duke and duchess. Many compositions surely had to be invented and some tiny scribbled notes for the illuminators survive that are testimony to the original inventions made by intelligent artists interpreting the text.
Antoine of Lorraine (1489-1544) grew up at the court of Louis XII where he befriended his cousin, the duke of Angoulême, the future king François I. He was 19 when his father died (1509) and although old enough to take on his duties, he entrusted the regency to his mother Philippa and the bishop of Toul, while he joined Louis XII, and later François I, on their Italian campaigns. Internal problems called him back to Lorraine, where the new ideas of Luther and revolt caused serious upheaval. By careful conduct and fortune, he was able to enlarge the duchy. The present codex may have contributed to his political acumen. It is in many ways a treasure trove for medieval studies.
Read more about this manuscript in our 2021 publication, Collecting Culture, as well as our Spotlight.
See also La grande vie du Christ for more information about the artist.
Back to list