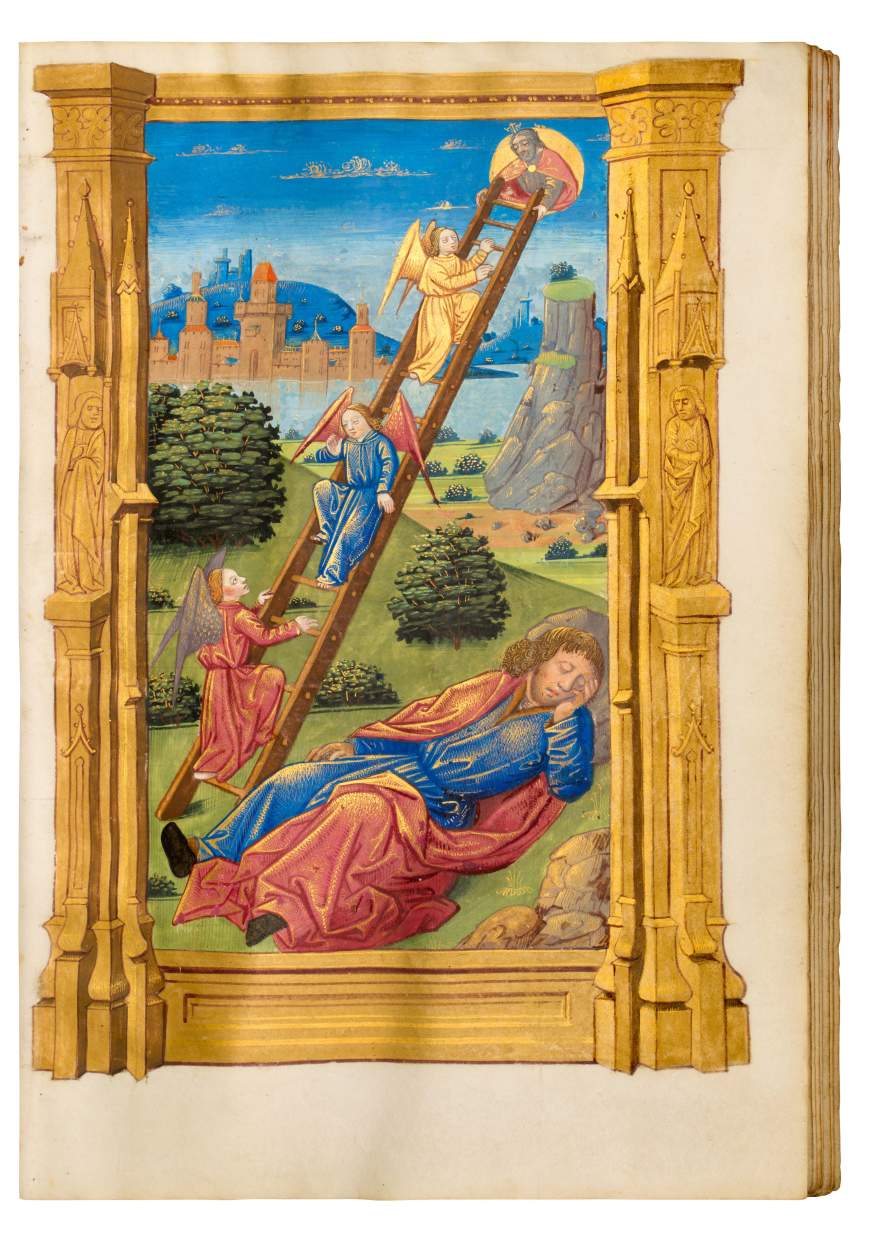 Close
1
/
7







Croismare Book of Hours and prayerbook, use of Rouen
Robert Boyvin and workshop
,
France, Rouen
,
c. 1490-1500
Book of Hours with unusual iconography. Calendar in French as well as some rubrics, otherwise all texts in Latin with male forms. Border decoration at the smaller initials consists of the initials RI, possibly the owner or recipient of the book.
Price € 165'000,- (VAT not included).
%3Cdiv%20class%3D%22artist%22%3E%3Cspan%20class%3D%22artist%22%3E%3Cstrong%3ERobert%20Boyvin%20and%20workshop%3C%2Fstrong%3E%3C%2Fspan%3E%3C%2Fdiv%3E%0D%3Cdiv%20class%3D%22title%22%3E%3Cem%3ECroismare%20Book%20of%20Hours%20and%20prayerbook%2C%20use%20of%20Rouen%3C%2Fem%3E%2C%20c.%201490-1500%3C%2Fdiv%3E%0D%3Cdiv%20class%3D%22medium%22%3EIlluminated%20manuscript%20on%20vellum.%3C%2Fdiv%3E%0D%3Cdiv%20class%3D%22dimensions%22%3E170%20x%20120%20mm.%20-%20138%20leaves.%20%E2%80%93%20With%208%20large%20miniatures%20in%20a%20golden%20architectural%20frame%20and%2012%20small%20miniatures.%20%3C%2Fdiv%3E
A highly individualised prayer book with an unusual focus on Old Testament scenes
Overview
With male forms and only one prayer (and the calendar) in French, the manuscript likely was made for a man. Use, illumination, and the later history of provenance all point to Rouen as place of origin and further use. The choice of prayers and iconographic programme indicate a special – perhaps learned – commissioner. Border decoration at the smaller initials consists of the initials RI, possibly the owner or recipient of the book. The first owner known by name is "Croismare", a well-known family in Rouen. But the first owner (Robert, René?) cannot be identified with certainty, although the miniature of the Arma Christi may in itself be reference to Croismare – croix d'arme(s).
The manuscript is most interesting as the iconographic program does not follow the usual pattern: included are several scenes taken from the Old Testament: from Genesis (Jacob's dream), from Exodus (three scenes concerning Moses), Samuel (Nathan admonishing David), Kings (Solomon and the Queen of Sheba, Elijah and Elisha) and from the Book of Judith (Judith and Holofernes). Christ and the woman taken in adultery is also not commonly found (New Testament, Gospel of John). This, as well as some of the extra leaves inserted into quires suggests that the manuscript was an individual commission.
The master who was responsible for the large compositions, Robert Boyvin, was strongly influenced by Parisian, Tours, and Bourges artists who dominated the book market at that time. Unusual miniatures with subjects from the Old Testament are found throughout, and it seems as if Boyvin's workshop had specialised in this extraordinary illustration scheme.
Robert Boyvin, active c. 1487-1536, came from a family known in the Rouen book trade since early in the 15th century. He was one of Rouen's foremost illuminators and more than fifty manuscripts, mostly Books of Hours, have been identified as produced in his style over a period of almost fifty years. However, not all of these achieved the same high artistic level; he doubtlessly employed a certain number of assistants who helped him with his projects. His most famous book illuminations were made for the Renaissance patron, Cardinal Georges d'Amboise (1460-1510), an ardent book lover.
Back to list