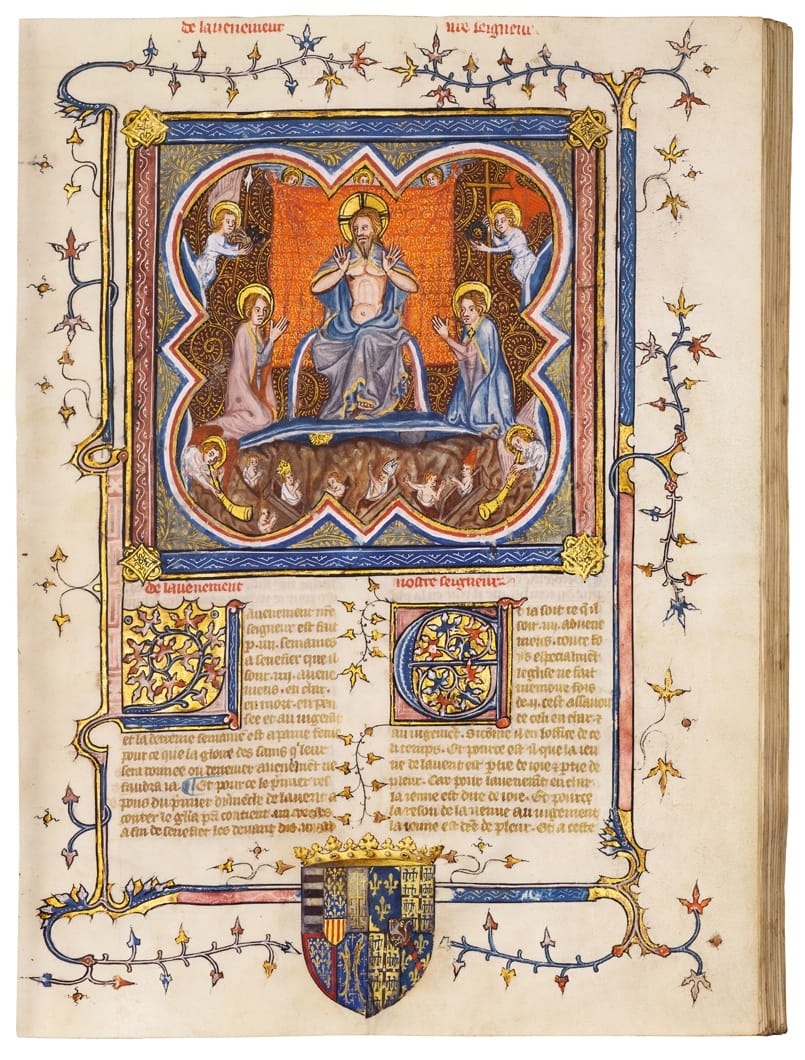 Close
1
/
4




Legende Dorée
Boqueteaux workshop
,
France, Paris
,
c. 1375-1380
The "Golden Legend" in the French translation of Jean de Vignay, illuminated by the Master of the Bible of Jean de Sy/workshop of the Boqueteaux Master. In an 18th-century binding bearing the coat-of-arms of Louis de Gand, de Merode, de Montmorency, prince d'Isenghien et de Masmines (d. 1767).
%3Cdiv%20class%3D%22artist%22%3E%3Cspan%20class%3D%22artist%22%3E%3Cstrong%3EBoqueteaux%20workshop%3C%2Fstrong%3E%3C%2Fspan%3E%3C%2Fdiv%3E%0D%3Cdiv%20class%3D%22title%22%3E%3Cem%3ELegende%20Dor%C3%A9e%3C%2Fem%3E%2C%20c.%201375-1380%3C%2Fdiv%3E%0D%3Cdiv%20class%3D%22medium%22%3EIlluminated%20manuscript%20on%20vellum%3C%2Fdiv%3E%0D%3Cdiv%20class%3D%22dimensions%22%3E312%20x%20228%20mm.%20%E2%80%93%20270%20leaves.%2087%20historiated%20initials%20on%20burnished%20gold%20grounds%2C%20all%20within%20pink%20or%20blue%20and%20burnished%20gold%20frames%20terminating%20in%20three-quarter%20borders%2C%201%20large%20opening%20miniature%20with%20full%20border%20and%20coat%20of%20arms.%20%20%3C%2Fdiv%3E
From the grand library of King René d'Anjou and Jeanne de Laval
Overview
The Golden Legend, or Legenda Aurea, is one of the classic works of the Middle Ages, containing lively tales of saints' miracles written in a simple style to address a wide audience. This manuscript came by inheritance to René, Duke of Anjou, Count of Provence, King of Naples, and titular King of Jerusalem (1438-1480) and Aragon (1466-1480). His famous library at Angers came to his widow Jeanne de Laval, who then added their joint coat of arms. The original French translation of the Latin original had been a royal commission from the Queen of France, c. 1340. The French version became popular among the nobility, yet today illuminated versions rarely come to the market.
The book opens with an imposing miniature of the Last Judgement: Christ sits enthroned in heaven, flanked by the Virgin and St. John. These intercessory figures mediate for the souls of the dead, which arise from their graves. Almost ninety, charming, well chosen, and self-explanatory miniatures illustrate the individual texts. The Parisian Boqueteaux workshop was the most prolific studio in Paris during the reign of Charles V (1364-1380). Our manuscript can be compared in size and layout to the manuscript inherited by Charles d'Anjou, René's brother (London, BL, ms. Add. 16907). Both volumes were likely commissioned by their grandfather, Louis I, Duke of Anjou (d. 1384).
Back to list