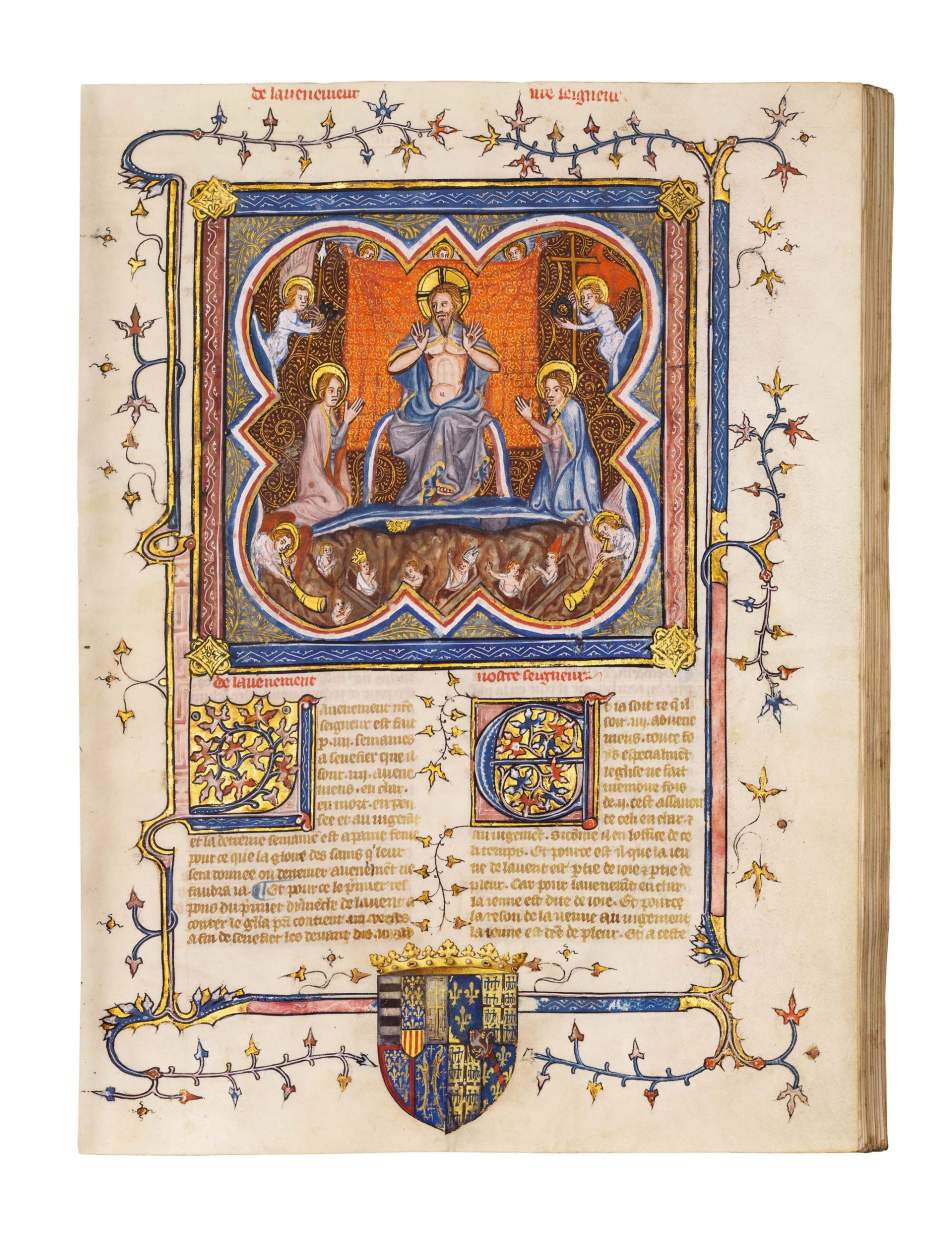 Close
1
/
4




A richly illustrated Legende Dorée
Boqueteaux workshop
,
France, Paris
,
c. 1375-1380
The "Golden Legend" in the French translation of Jean de Vignay, illuminated by the Master of the Bible of Jean de Sy/workshop of the Boqueteaux Master. In an 18th-century binding bearing the coat-of-arms of Louis de Gand, de Merode, de Montmorency, prince d'Isenghien et de Masmines (d. 1767).
Price on request.
%3Cdiv%20class%3D%22artist%22%3E%3Cspan%20class%3D%22artist%22%3E%3Cstrong%3EBoqueteaux%20workshop%3C%2Fstrong%3E%3C%2Fspan%3E%3C%2Fdiv%3E%0D%3Cdiv%20class%3D%22title%22%3E%3Cem%3EA%20richly%20illustrated%20Legende%20Dor%C3%A9e%20%3C%2Fem%3E%2C%20c.%201375-1380%3C%2Fdiv%3E%0D%3Cdiv%20class%3D%22medium%22%3EIlluminated%20manuscript%20on%20vellum.%3C%2Fdiv%3E%0D%3Cdiv%20class%3D%22dimensions%22%3E312%20x%20228%20mm.%20%E2%80%93%20270%20leaves.%2087%20historiated%20initials%20on%20burnished%20gold%20grounds%2C%20all%20within%20pink%20or%20blue%20and%20burnished%20gold%20frames%20terminating%20in%20three-quarter%20borders%2C%201%20large%20opening%20miniature%20with%20full%20border%20and%20coat%20of%20arms.%20%20%3C%2Fdiv%3E
From the grand library of King René d'Anjou and Jeanne de Laval
Overview
The Golden Legend, or Legenda Aurea, is one of the classic works of the Middle Ages, containing lively tales of saints' miracles written in a simple style to address a wide audience. Hardly any text has been more popular and its text tradition, therefore, offers quite interesting variants all over Europe.
Much of the importance of this edifying codex lies in its interesting history of ownership and its numerous, lively illustrations. The book was handed down in the Anjou family until René d'Anjou, the second son of Louis II d'Anjou, received it by inheritance. As Duke of Anjou and Count of Provence (1434-1480), King of Naples, and titular King of Jerusalem and Aragon (including Sicily, Majorca and Corsica), he amassed a famous library in his castle at Angers, but never added an ex-libris or any provenance inscriptions to his books. It was his widow, Jeanne de Laval who added their joint coat of arms on the openings page, before she passed the book on to the daughters of her family. In her last will (1498), Jeanne states that her devotional manuscripts 'and all our other books ... are to be given into the keeping of the chapter of Tugal in Laval [the priory which functioned as family mausoleum, on the border of Brittany] to be used by the daughters of our successors in the rule of Laval, on the day of their marriage or when they reside in the vicinity'
The manuscript comprises short legendary texts on the lives of saints and opens with an imposing miniature of the Last Judgement, Almost ninety charming miniatures, well-chosen and self-explanatory, illustrate the individual texts.
The illuminator worked in the Parisian Boqueteaux workshop, who has also been called the Master of the Jean de Sy Bible. Some ten codices of the Legende Dorée may survive that were illuminated in this, most prolific shop in Paris active during the reign of Charles V (1364-1380). This manuscript is the only one still in private hands.
These stories show the persistence and determination of many saints, almost all of which are illustrated in an eye-catching, lively way. Such books were at the heart of the education of the young nobility, boys as well as girls. Today, these imaginative stories and their portraits can still enliven educational presentations. Learning to discover knowledge, not of facts but of values, is of all times.
Read more about this manuscript in our Spotlight on Paris, and in our Spotlight on Royal Codices.
Back to list