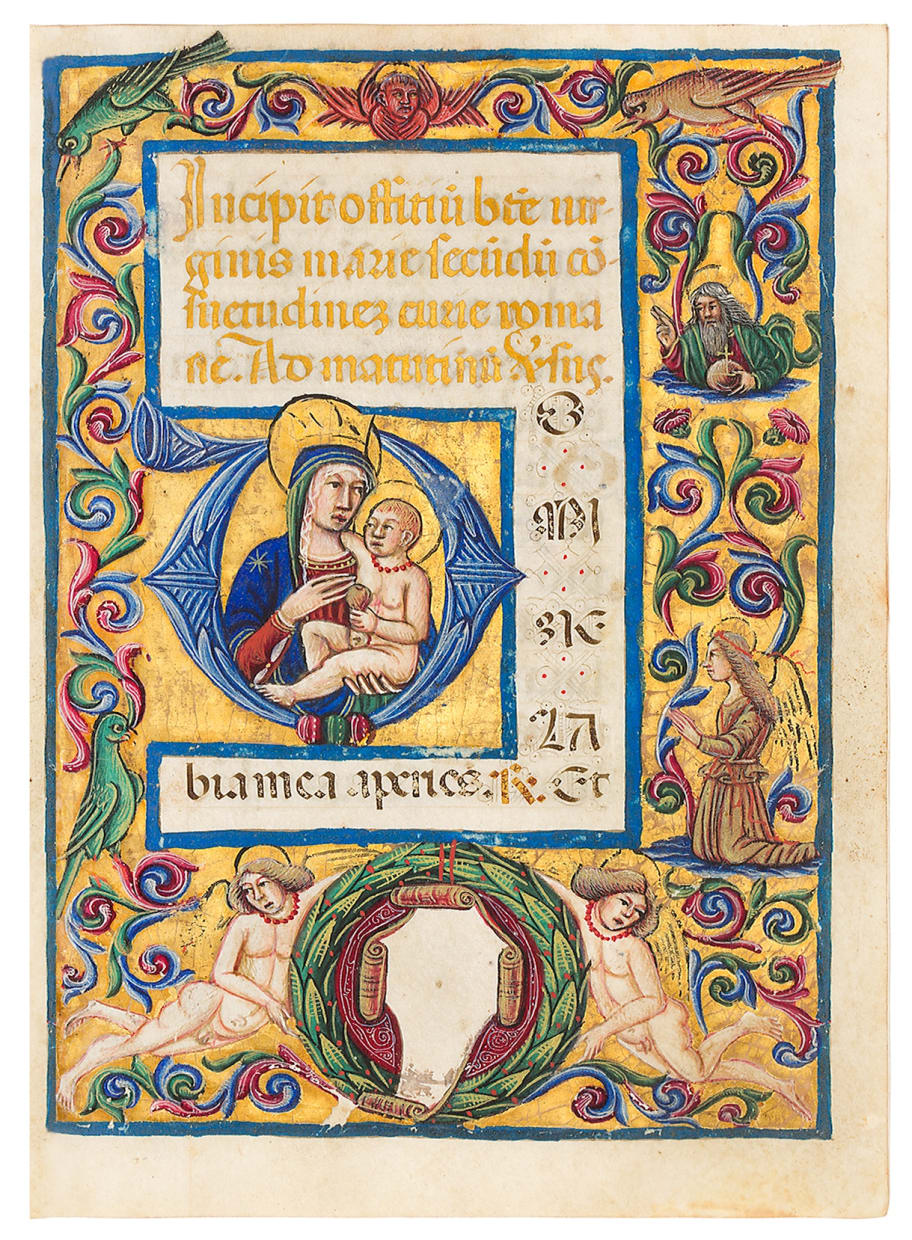 Close
1
/
5





Mountnorris Book of Hours, use of Rome
North-eastern Italy, Veneto (?)
,
c. 1475-1500
Written and illuminated in northern Italy, and painted in beautifully saturated colours, this Italian Book of Hours features an artist with a lively feeling for humour rather than mere sombre devotion.
%3Cdiv%20class%3D%22title%22%3E%3Cem%3EMountnorris%20Book%20of%20Hours%2C%20use%20of%20Rome%3C%2Fem%3E%2C%20c.%201475-1500%3C%2Fdiv%3E%0D%3Cdiv%20class%3D%22medium%22%3EIlluminated%20manuscript%20on%20vellum.%3C%2Fdiv%3E%0D%3Cdiv%20class%3D%22dimensions%22%3E140%20x%2095%20mm.%20%E2%80%93%20182%20leaves%2C%20with%2012%20historiated%20initials%20and%20border%20decoration%20including%20medallions.%3C%2Fdiv%3E
A small, but delightful Book of Hours
Overview
This is a colourful and decorative Italian Book of Hours with twelve illuminated pages with historiated initials and full border decoration, five of which with burnished gold grounds on all borders. The text pages too are liberally furnished with golden initials, rubrics and flourish borders. The style seems a fusion of elements found in manuscripts produced in the Veneto and Lombardy at the end of the 15th century, with birds and animals in the borders recalling those in books produced for the court of Ferrara. The illumination reveals the aftermath of Venice manuscripts of the 1460s and might originate in the Veneto, perhaps in Verona or Padua.
Italian Books of Hours deserve much more attention, as they are testimonial to the spiritual atmosphere of the Italian public as well as being small treasures of artistic accomplishment on its own.
Back to list