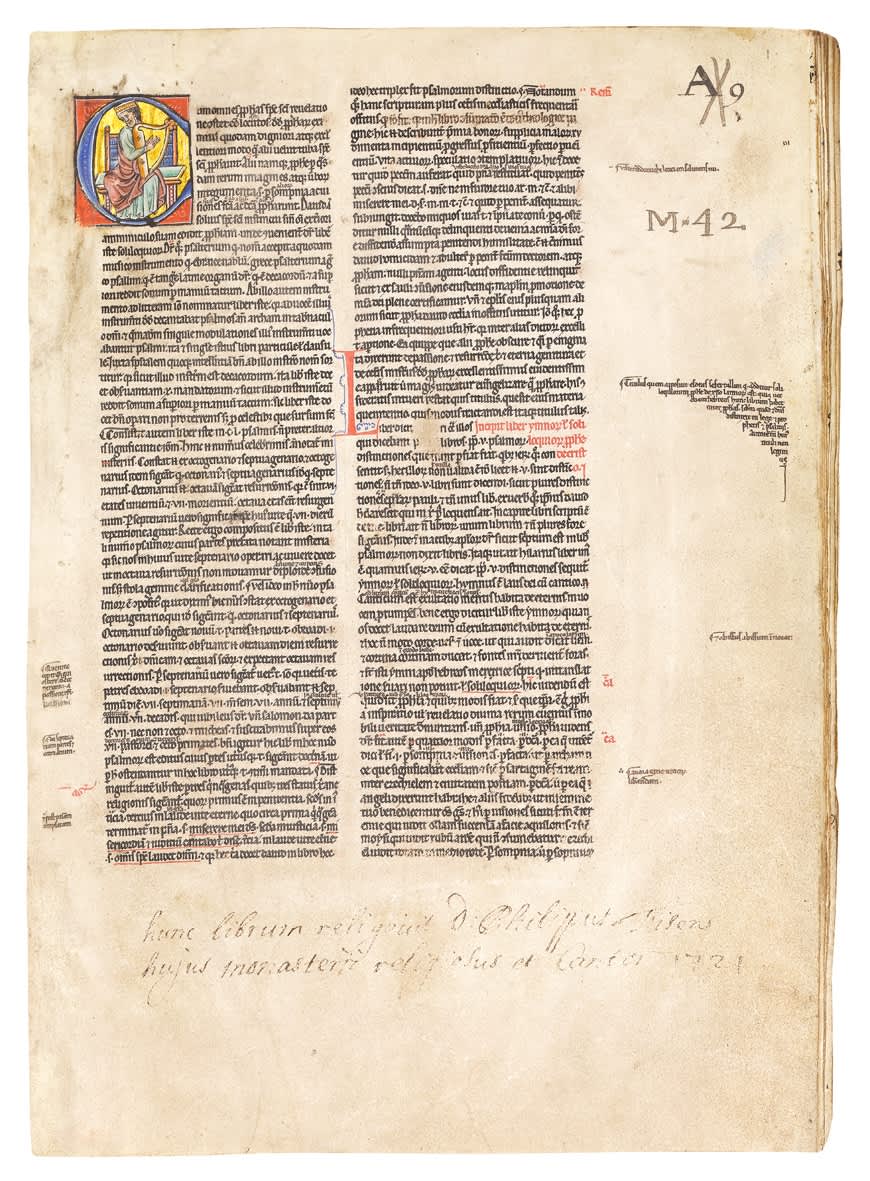 Close
1
/
4




Glossatura magna in psalmos
Almagest workshop
,
France, Paris
,
c. 1200
No book of the Bible was so influential and popular throughout the Middle Ages as the Book of Psalms. The poetic texts were sung and recited in church and monastic services each day of the week, and young boys would be taught Latin by reading and memorizing them.
Price on request.
%3Cdiv%20class%3D%22artist%22%3E%3Cspan%20class%3D%22artist%22%3E%3Cstrong%3EAlmagest%20workshop%3C%2Fstrong%3E%3C%2Fspan%3E%3C%2Fdiv%3E%0D%3Cdiv%20class%3D%22title%22%3E%3Cem%3EGlossatura%20magna%20in%20psalmos%3C%2Fem%3E%2C%20c.%201200%3C%2Fdiv%3E%0D%3Cdiv%20class%3D%22medium%22%3EIlluminated%20manuscript%20on%20vellum.%3C%2Fdiv%3E%0D%3Cdiv%20class%3D%22dimensions%22%3E280%20x%20202%20mm.%20%E2%80%93%20204%20leaves.%2020%20illuminated%20initials%2C%20two%20of%20which%20historiated.%20Contemporary%20binding.%3C%2Fdiv%3E
Highly refined in art and layout
Overview
Although Petrus 'Lombardus' counts among the most important personalities of his time, no records or biography survive to tell us of his life. Probably born between 1095-1100 in the region of Novara in Lombardy, he was writing and teaching in Paris by 1136. A few years later, in 1145, he became a canon of Notre Dame, having been selected on the basis of his merits (and not because of influential connections). He was elected bishop of Paris in 1159, but died soon afterwards (d. 1160).
As beautiful and symbolic poetry, not all verses of the Psalms were easily understood. Essential and important, the texts were studied and explained by theologians. When Peter Lombard compiled his commentary on the Psalms, the manuscripts with the Psalm verses and commentaries required a special, rather complicated layout that was professionally organized. This was a major innovation in the organization of glossed books.
In the centre, the verses were first written in red ink. The commentaries were then added in black, with abbreviations and key words underscored in red. In the margins, abbreviated names of sources used are also written in red ink: Augustine, Cassiodorus, Jerome, and others. At the same time, a system of reference signs was developed. For decoration the eight important Psalm divisions and each of the 150 Psalms were highlighted with a large, finely painted initial. Smaller initials in blue, like in this example, head every verse.
The illumination is attributed to the Parisian 'Almagest' workshop that is named after a manuscript of Ptolomy's Almagest and was active in the first decades of the 13th century. The contribution to the present manuscript relates to its finest products and evolved from the so-called 'Channel Style', developed by the first professional illuminators who worked on both sides of the Channel, and later settled in Paris. The characteristic forms and shapes are meticulously designed and appear almost classically refined. The delicately painted initials - often with burnished gold backgrounds - indicate a patron who was interested in obtaining a very precious manuscript.
Any newly founded church or monastic institution would need a number of books, often presented as gifts by the motherhouse or by a wealthy person. The Book of Psalms could then be bound in gold or silver, marvellously adorned with gems, enamel plaques, or ivories.
This unusually, dignified and exceptionally carefully prepared codex of Peter Lombard's Commentary on the Psalms was a precious commission – far above the usual quality of a scholastic study book. With its fresh colours, highly burnished gold, and fine script, this is an extremely elegant manuscript dating around 1200. The codex may represent a prestigious gift, ordered and made in Paris for what we know as its first owner, the Benedictine abbey of St. James in Liège. Such an intricate layout as we find here accelerated the professionalization of book production executed by professional secular scribes and artists.
Founded in the early 11th century, St. James Abbey was reorganized in 1209 and soon flourished again. As almost nothing survives of this period, the present codex is therefore an important witness to the abbey's spiritual life. The book remained at St. James' until 1788, when it was recorded in the inventory as no. 21. Since the manuscripts collected by the abbey were sold, they have been dispersed all over the world. However, such an early and precious manuscript to come to the market is quite rare.
Read more about this manuscript in our Spotlight on 13th-century Paris, and in our Spotlight on French illumination.
Back to list