Artworks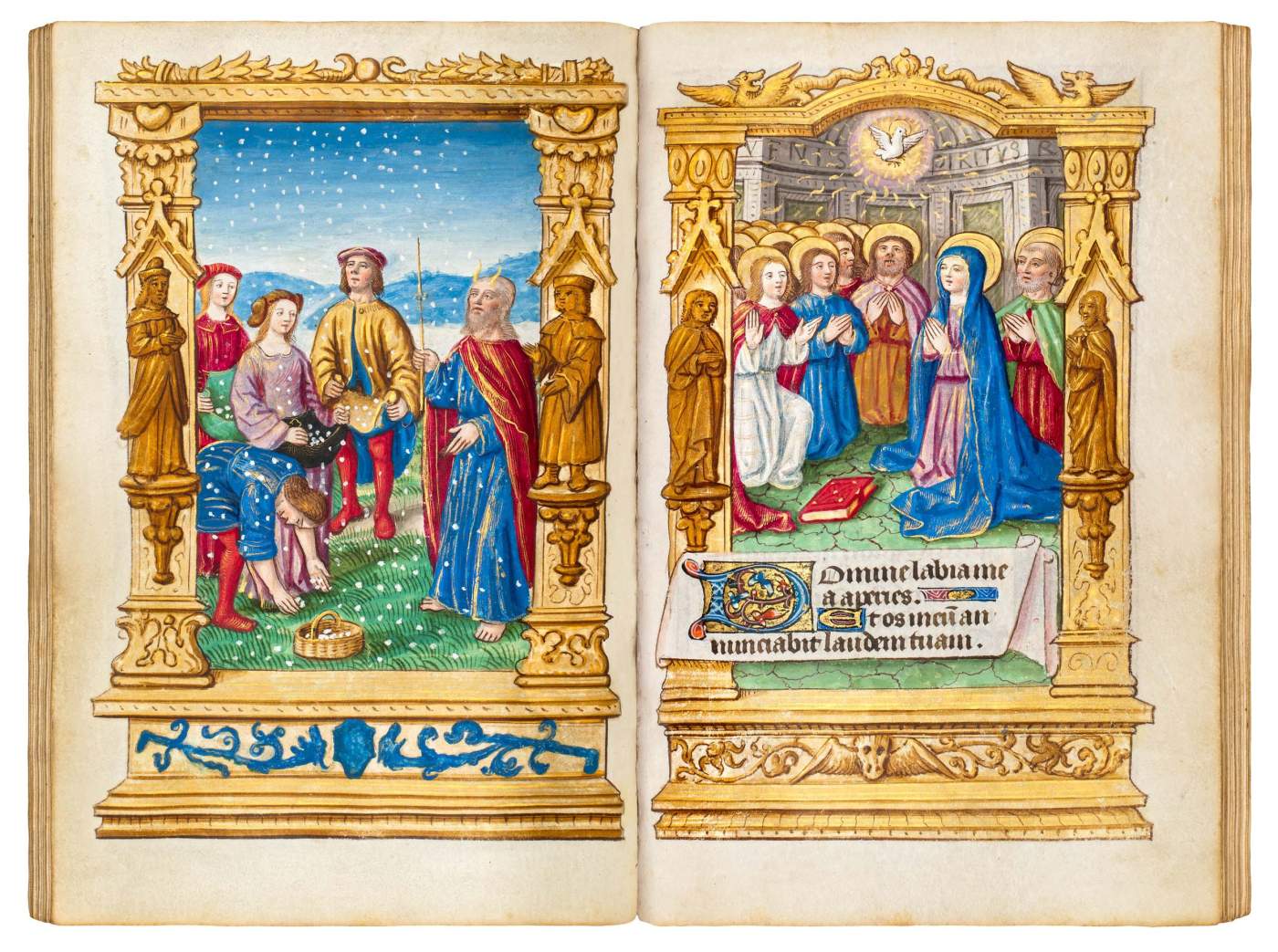 Close
1
/
7







Beautiful and Unusual: Parisian Book of Hours
Masters of Philippa of Guelders
,
France, Paris
,
1506
Unusual iconography employed by the skilled Master of Philippa of Guelders results in beautifully illuminated miniatures. The 'modern' architectural frames in liquid gold frame these religious scenes.
CHF 360'000,- (VAT not included)
%3Cdiv%20class%3D%22artist%22%3E%3Cspan%20class%3D%22artist%22%3E%3Cstrong%3EMasters%20of%20Philippa%20of%20Guelders%3C/strong%3E%3C/span%3E%3C/div%3E%0D%3Cdiv%20class%3D%22title%22%3E%3Cem%3EBeautiful%20and%20Unusual%3A%20Parisian%20Book%20of%20Hours%3C/em%3E%2C%201506%3C/div%3E%0D%3Cdiv%20class%3D%22medium%22%3EManuscript%20on%20vellum%2C%20in%20Latin%20with%20calendar%20in%20French.%20In%20a%20handsome%2C%2017th-century%20binding%20in%20dark%20burgundy%20morocco%20with%20gilt%20ornaments%20showing%20delicate%20sprays%20forming%20medallions.%20The%20floral%20ornaments%20encircle%20the%20monograms%20of%20an%20early%20owner%3A%20%27MM%27%20on%20the%20front%20and%20%27CC%27%20on%20the%20back.%20Clasps%20removed.%20%3C/div%3E%0D%3Cdiv%20class%3D%22dimensions%22%3E178%20x%20115%20mm%2C%20160%20leaves%2C%2062%20miniatures%3C/div%3E
Full of unusual stories, a fascinatingly painted prayerbook
Overview
Though originally thought to be part of the 'School of Rouen', this Master, who executed the first volume of the Vie du Christ commissioned for Philippa of Guelders, Duchess of Lorraine, can be traced to Paris c. 1500-1510, and was closely connected in style to the artist Jean Pichore. Five of the miniatures are diptych-like, falling over two pages, creating a truly one-of-a-kind Book of Hours.
Beginning with twenty-four calendar pictures in golden frames, the months on the recto and symbols of the zodiac on the verso, this prayerbook is absolutely flush with illuminated imagery, culminating in 62 miniatures of various sizes. There is an interesting intersection of styles for a work from 1506, from traditional compositional principles to the new Renaissance aesthetic, and the artist has chosen unusual iconography, including the collection of Manna from Heaven, and the punishments presented to King David.
Interested in items created for Philippa of Guelders?
Plutarch's Lives of Romulus and Cato the Younger
Ludolphus Carthusiensis' Vie Du Christ
See this item in our catalogue Celebrating the Past.
Back to list