Artworks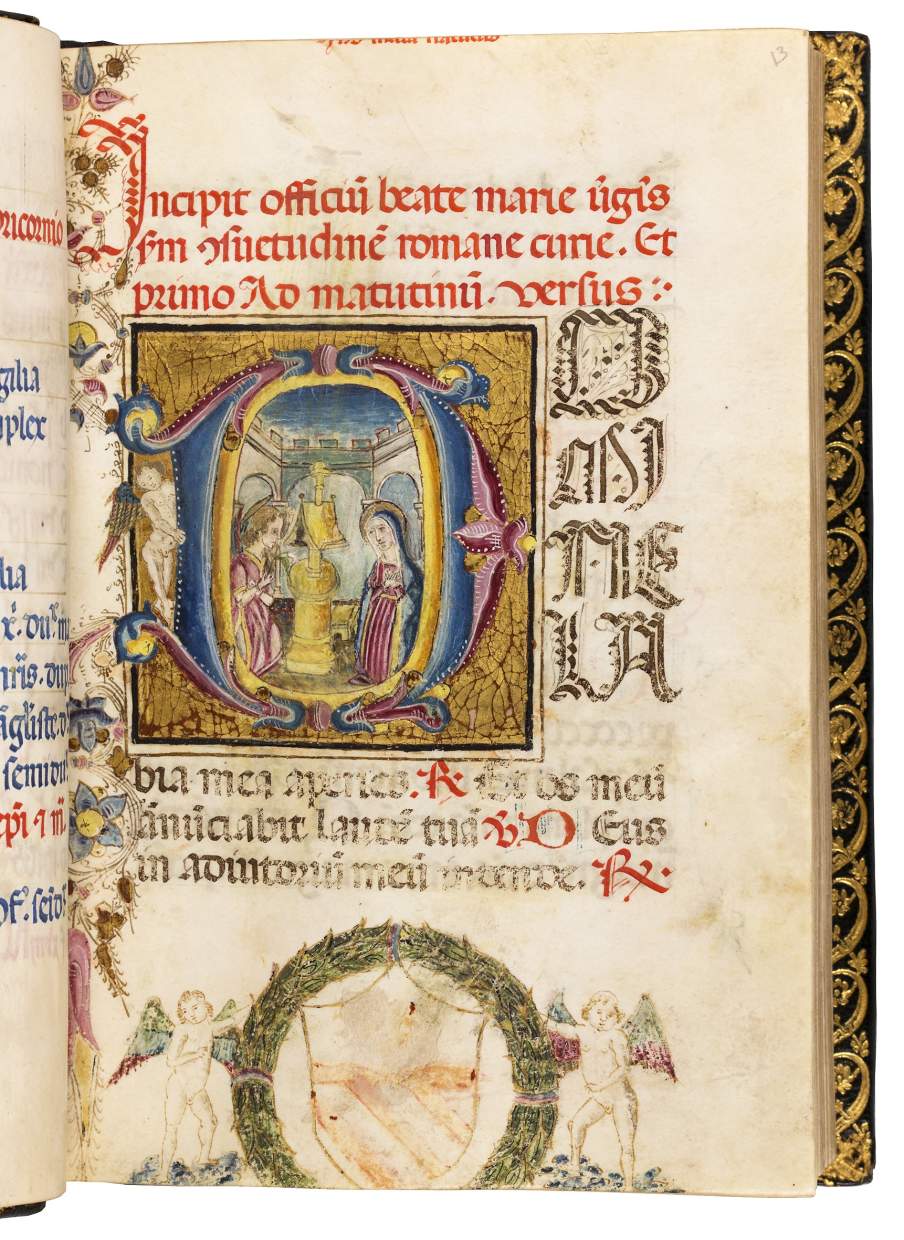 Close
1
/
3



Book of Hours, use of Rome
This manuscript is especially interesting and revealing as it was dated and signed by the scribe, Friar John of France (Johannes Francigena) who completed this Book of Hours on the 5th of March 1494. A series of prayers in Italian suggests that the book was made by the Franciscan monk for a laic, possibly a woman.
%3Cdiv%20class%3D%22title%22%3E%3Cem%3EBook%20of%20Hours%2C%20use%20of%20Rome%3C%2Fem%3E%2C%201494%3C%2Fdiv%3E%0D%3Cdiv%20class%3D%22signed_and_dated%22%3E5%20March%201494%3C%2Fdiv%3E%0D%3Cdiv%20class%3D%22medium%22%3EIlluminated%20manuscript%20on%20vellum.%3C%2Fdiv%3E%0D%3Cdiv%20class%3D%22dimensions%22%3E176%20x%20122%20mm.%20%E2%80%93%20142%20leaves%2C%20with%205%20large%20historiated%20initials%20on%20a%20golden%20field%2C%20accompanied%20by%20floral%20border%20decoration%20and%20one%20initial%20in%20gold.%3C%2Fdiv%3E
Inspired by Franciscan spirituality
Overview
The present manuscript is remarkable and unique for its inclusion of a large series of prayers in Italian, suggesting the book was personalised for a laic, perhaps a pious woman. The scribe, Friar John of France (Johannes Francigena), probably of French origin as his name suggests and belonging to the Franciscan order, is not documented elsewhere.
The illustration of this manuscript is economic and simple, befitting a book cherished for its spiritual rather than its material value. The present manuscript originally belonged to a person both wealthy and pious – demonstrated by the copious use of burnished gold – with a relationship to the Franciscan movement.
Since the middle of 13th century, the Franciscan spiritual movement had become an integral part of religious life. Adherence to Franciscan ideals also explains the relatively standard structure of these Books of Hours, as the Franciscan movement led to liturgical reform aimed at a shorter, simpler, and more uniform programme.
Books of Hours produced under the aegis of the Franciscans reflect this spirit. Their rather unpretentious books were intended to function as devotional books, not to serve as display items of luxury. Their illustration, therefore, plays a decidedly subordinate role to the text.
By the end of the 15th century, growing support among the laity for the Franciscan Observant movement was palpable. Franciscans acted as religious counsellors for lay people and encouraged their participation in religious affairs. The book at hand reflects this new theological tendency in Italy.
Back to list