Artworks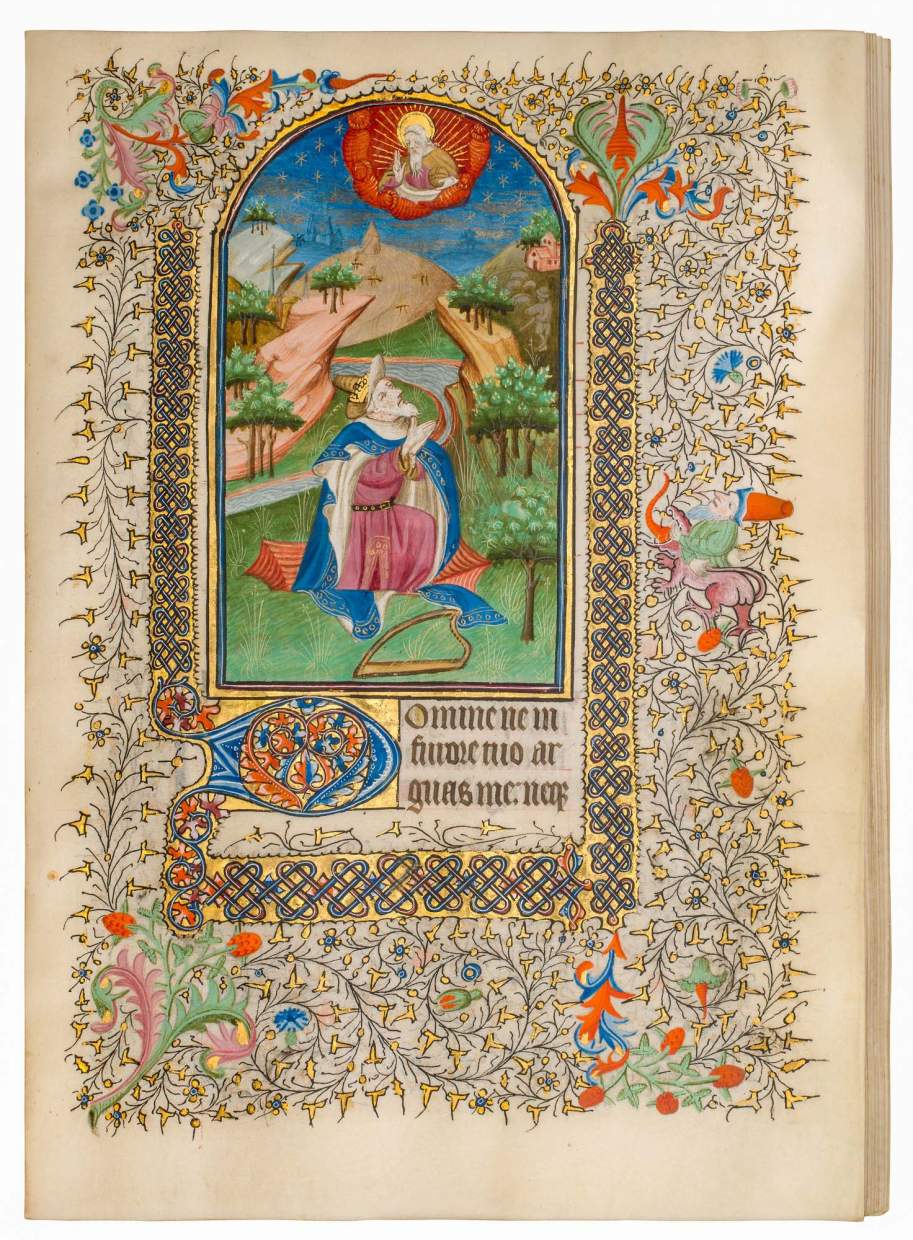 Close
1
/
14














Talbot-Beauchamp Book of Hours, use of Sarum
illuminated in the circle of the Bedford/Dunois Masters
,
France, Normandy, Rouen
,
c. 1430
This engaging manuscript was likely created for the renowned English noblemen Sir John Talbot (or his wife), who played an important role during the Hundred Years' War and in the trial against Joan of Arc. Some fascinating details in the border decoration confirm this hypothesis of his ownership. It was illuminated by two talented artists, whose œuvre is not yet well known. It is a vivid and stunningly preserved testimony to a phase in French history when the book trade moved away from Paris due to the capital's occupation by the English.
Price on request.
%3Cdiv%20class%3D%22artist%22%3E%3Cspan%20class%3D%22artist%22%3E%3Cstrong%3Eilluminated%20in%20the%20circle%20of%20the%20Bedford%2FDunois%20Masters%3C%2Fstrong%3E%3C%2Fspan%3E%3C%2Fdiv%3E%0D%3Cdiv%20class%3D%22title%22%3E%3Cem%3ETalbot-Beauchamp%20Book%20of%20Hours%2C%20use%20of%20Sarum%3C%2Fem%3E%2C%20c.%201430%3C%2Fdiv%3E%0D%3Cdiv%20class%3D%22medium%22%3EIlluminated%20manuscript%20on%20vellum.%3C%2Fdiv%3E%0D%3Cdiv%20class%3D%22dimensions%22%3E221%20x%20155%20mm.%20%E2%80%93%20187%20leaves%2C%20complete.%2031%20large%20miniatures%2C%20full%20illuminated%20borders%20with%20burnished%20gold%20leaves%20and%20colourful%20plants.%20%3C%2Fdiv%3E
A magnificent Book of Hours of noble provenance
Overview
Out of sight for more than eighty years, this is a highly engaging manuscript that offers more than great aesthetic enjoyment. There are two principal artists to dicover in the present book who trained in the circle of the best Parisian Masters.
The main hand may be identified as that of the Master of BnF ms. lat. 1162, one of the illuminators in the circle of the Bedford Master, thus far known only as working in Paris. However, his work here suggests that he must have moved to Rouen. The style is somewhat conventional, with graceful and tranquil faces and landscapes that hearken back to the Bedford tradition. In the course of making the book, it was evidently upgraded: further Suffrages to Saints were inserted and a cycle of miniatures for the Passion was introduced. The second artist has some links with the painter of Ricketts ms. 120 in the Lilly Library (Bloomington, USA) and, in crispness of outlines and vigour of expression, with the Fastolf and Talbot Masters. He is evidently a great designer, with a superb feeling for balancing blocks of colour and delicate detail.
The border on f. 72v shows a white dog (a Talbot), the earl's personal badge, holding a banner with the earl's coat of arms. The dog faces a man with a red headdress rising from a tower, holding a scroll: "verite va" (la verite va vous liberer, or: the truth will make you free, John 8:32). This obviousely hints at Sir John Talbot's being imprisoned and held at ransom by the French. The book may have either belonged to him or his wife, Margaret Beauchamp, who was in France in 1431 to attend the coronation of Henry VI.
The Hours of the Virgin being interspersed with the Hours of the Cross was uncommon in France at the time this book was made but was rather popular in English prayer books, as is the incorporation of extra Suffrages. In the book at hand, the prayers to Saint Catherine and Saint Margaret are illustrated with large miniatures, which may indicate that these saints are connected with the owner: Sir John Talbot's oldest daughter was named Katherine, while his second wife's name was Margaret.
The artists remarkably harmonized their paintings, working in a palette that is quite homogenous and by adding features like skies with minuscule golden stars and silvery streaks of clouds. The result is a manuscript of rare beauty.
Read more about this manuscript in our Spotlight.
Back to list