Artworks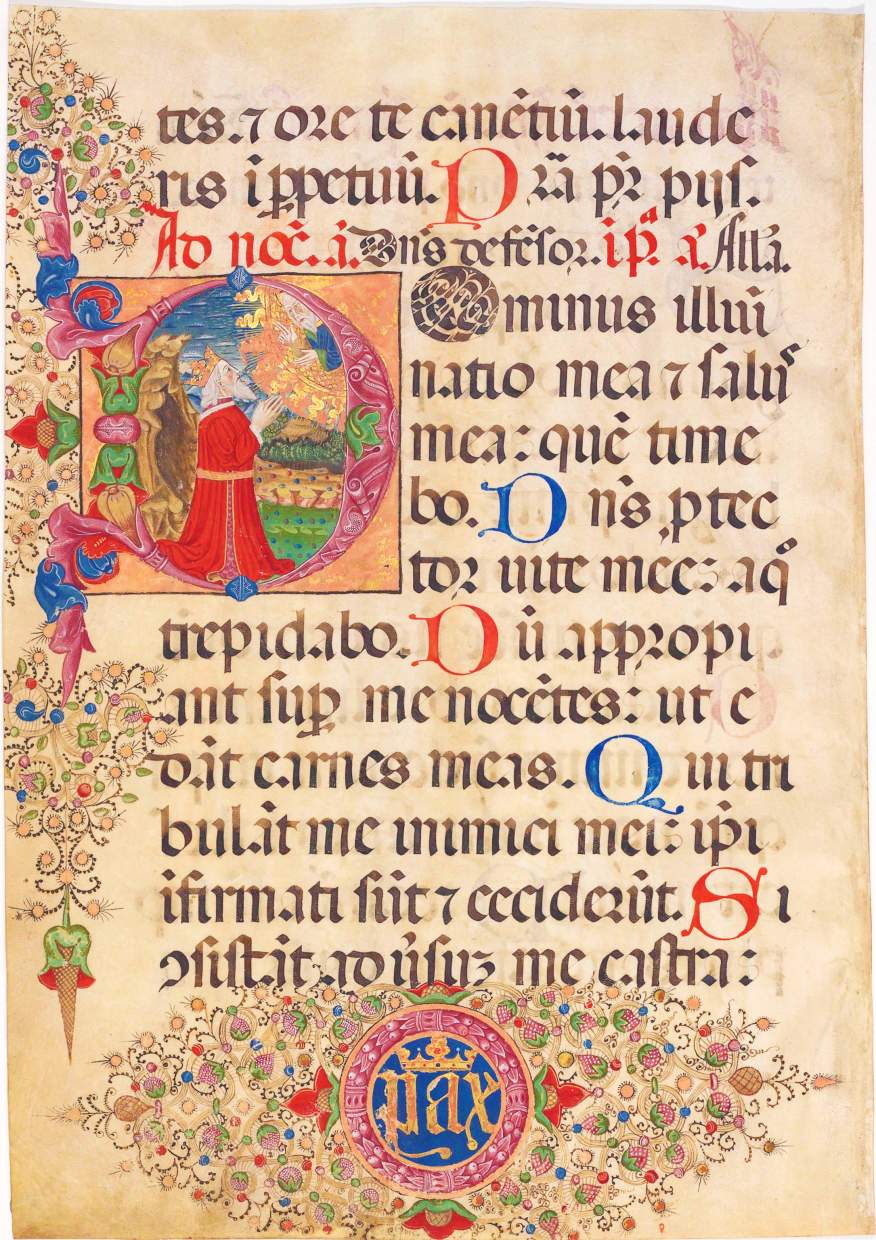 Close
1
/
1

King David Prays
Italy, probably Milan
,
c. 1460-1470
King David kneels in prayer before God in an historiated initial D, on a leaf from a Psalter made for Franciscan use, commissioned by the Visconti family of Milan.
%3Cdiv%20class%3D%22title%22%3E%3Cem%3EKing%20David%20Prays%3C/em%3E%2C%20c.%201460-1470%3C/div%3E%0D%3Cdiv%20class%3D%22medium%22%3EMiniature%3B%20tempera%20and%20gold%20on%20vellum%3C/div%3E%0D%3Cdiv%20class%3D%22dimensions%22%3ELeaf%3A%20520%20x%20270%20mm%3C/div%3E
A Visconti commission in Milan
Overview
Symbols and Franciscan iconography hint at the commissioner, origin, and use of this liturgical manuscript, presumably a Psalter. The leaf shows the text and initial opening Psalm 26: Dominus illuminatio mea et salus mea... In the letter D, King David kneels in prayer before a cave, looking up to God in heaven. The iconography refers to David's time of distress as recorded in 1 Samuel 22 and Psalm 141. In the lower margin, symbols of the Visconti family of Milan are recognizable: the 'Visconti-sun' with meandering rays and crown above the device "pax" (peace). Not only Filippo Maria Visconti (d. 1447), but also his successor, as well as his widow Bianca Maria Visconti (1424-1468) added this device to their commissions. Bianca may well have ordered the book to be finished for use in memorial services for the soul of her deceased husband. If so, she presumably donated the Psalter to the Franciscans of S. Angelo in Milan, the monastery that enjoyed particular support by Filippo Maria Visconti and his descendants, who repeatedly donated liturgical books.
Read more about this artwork in our Spotlight.
Back to list