Artworks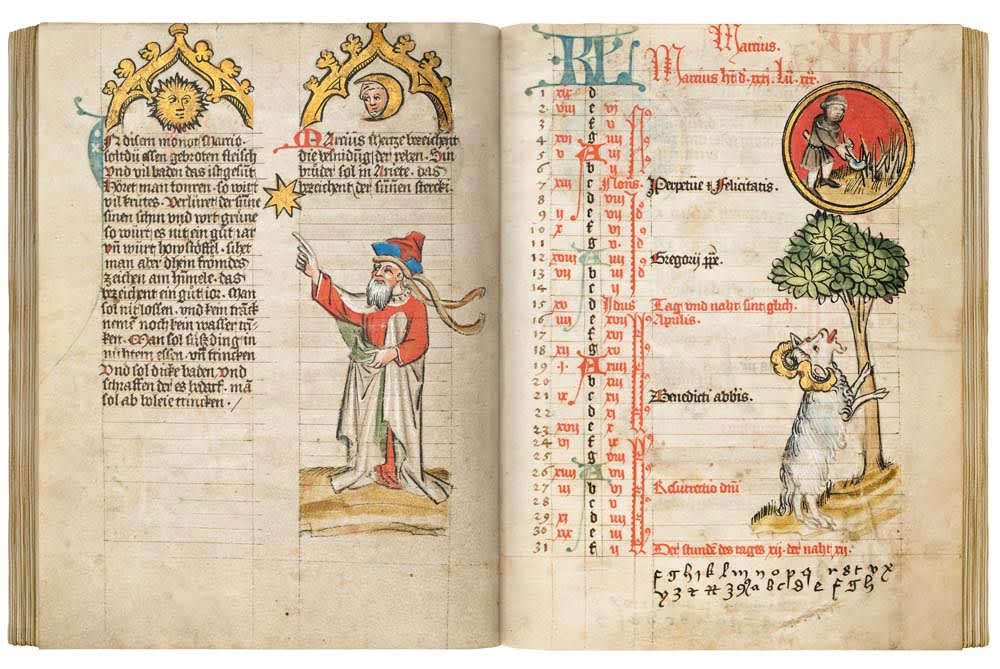 Close
1
/
2


McKell Medical Almanac
Diebold Lauber workshop
,
Alsace, Hagenau
,
c. 1445
An almanac offers astronomical-medical information arranged according to the calendar of the year. Often worn by intense use, these booklets are extremely rare. This is an extraordinary copy, finely illuminated in colours and gold in the workshop of the celebrated Diebold Lauber, made for a patron in the diocese of Strasbourg.
%3Cdiv%20class%3D%22artist%22%3E%3Cspan%20class%3D%22artist%22%3E%3Cstrong%3EDiebold%20Lauber%20workshop%3C%2Fstrong%3E%3C%2Fspan%3E%3C%2Fdiv%3E%0D%3Cdiv%20class%3D%22title%22%3E%3Cem%3EMcKell%20Medical%20Almanac%3C%2Fem%3E%2C%20c.%201445%3C%2Fdiv%3E%0D%3Cdiv%20class%3D%22medium%22%3EIlluminated%20manuscript%20on%20paper.%3C%2Fdiv%3E%0D%3Cdiv%20class%3D%22dimensions%22%3E206%20x%20155%20mm.%20%E2%80%93%2012%20leaves%2C%20of%20which%2011%20illuminated%2C%20including%2012%20occupations%20of%20the%20month%2C%20and%2011%20half-page%20depictions%20of%20astronomers.%20%3C%2Fdiv%3E%3Cdiv%20class%3D%22price%22%3ESold%3C%2Fdiv%3E
Extraordinarily useful throughout the year
Overview
All text columns on these leaves are decorated with a golden arch, the sun, or the moon as a man's face, and a large size figure of an astronomer. The text opens with prognostications on what will happen in the year depending on which day of the week the first day of January falls (if a Monday, the weather will be extreme and "there will be little honey …"; if a Thursday, the weather will be fine, but "there will be little wine"; if a Friday, "many will have sore eyes"). Entries for January advise against bleeding but suggest drinking strong wine with ginger. For February is advised to bleed only through the thumb and to "eat hot food …". For March, "eat roast meat and often bathe, this is healthy". Further months suggest to consume certain medicinal herbs, to eat no meat from the feet of animals, to "not go often to women", with predictions about thunder, weather changes, or meteorites bringing war and death in their wake. In all, a fascinating manuscript.
Read more about this manuscript in our Spotlight.
This work is now in the collection of the Bibliothèque nationale et universitaire in Strasbourg, Ms. 7. 141. It has been fully digitised here.
Back to list