Artworks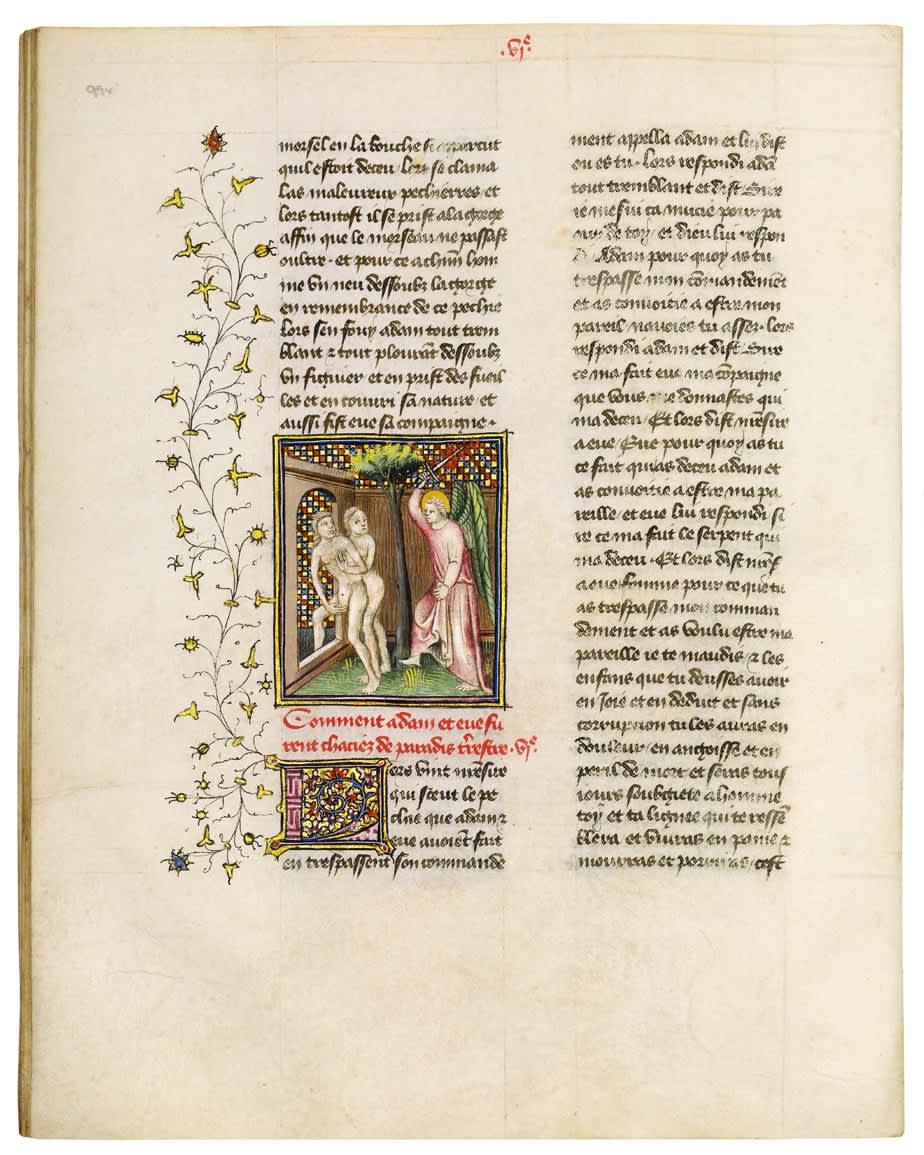 Close
1
/
10










Gorgeous History Bible
Master of the Berry Apocalypse
,
France, Paris
,
c. 1416
The so-called History Bible is one of the chief works of medieval literature. The translation into French made by the cleric Guiart des Moulins (1294), offers a narrative sequence specially attractive for lay people. It was by far the most popular interpretation of the Bible in France. This codex includes several biblical texts, lives of saints, a version of Giovanni Boccaccio's, Patient Griselda and a rare poem on St. Christopher. Illuminated in the workshop of the Master of the Berry Apocalypse, the full series of miniatures shows a lively graphic approach in its coloured grisaille painting.
Price on request.
%3Cdiv%20class%3D%22artist%22%3E%3Cspan%20class%3D%22artist%22%3E%3Cstrong%3EMaster%20of%20the%20Berry%20Apocalypse%3C%2Fstrong%3E%3C%2Fspan%3E%3C%2Fdiv%3E%0D%3Cdiv%20class%3D%22title%22%3E%3Cem%3EGorgeous%20History%20Bible%3C%2Fem%3E%2C%20c.%201416%3C%2Fdiv%3E%0D%3Cdiv%20class%3D%22medium%22%3EIlluminated%20manuscript%20on%20vellum%3C%2Fdiv%3E%0D%3Cdiv%20class%3D%22dimensions%22%3E303%20x%20236%20mm.%20%E2%80%93%20210%20leaves.%20With%201%20large%20and%2077%20column-wide%20miniatures%2C%2080%20decorated%20initials%20with%20coloured%20foliage%20on%20burnished%20gold%20grounds%20and%20border%20decoration.%3C%2Fdiv%3E
A unique collection of texts, illuminated by one of the Duke of Berry's book illuminators
Overview
The collection of seemingly disparate texts was not randomly selected. It begins with the preface and Genesis from Guiart des Moulin's Bible historiale, a French adaptation of Peter Comestor's Historia scholastica, summarising the narrative sections of the Bible. Among other texts the lives of the saints were given in verse and in prose and the narrative closes with the story of the loyal and incomprehensibly patient Griselda. This compilation fits into an approach that employs religious matter in order to both entertain the secular reader and encourage good conduct. Such anthologies were to educate the young nobility. Elegantly written in a lettre bâtarde throughout, the large format book may have been made for reading aloud during a meal or a festive evening, or for teaching noble youngsters during their private lessons. Those who were captivated could have a glance at the illuminated pictures, when the book was open on a lectern in the library.
The rich illustration is created in the workshop of the Master of the Berry Apocalypse, named after his major work for the Duke of Berry (New York, PML, M. 133). Active c. 1407-1420, this Parisian master seems to have specialised in manuscripts with large illustration cycles. He distinguished himself by his graphic approach with sparing application of colour, giving the impression of coloured grisaille, in which he differs from his contemporaries.
The workshop of the Master of the Berry Apocalypse seems to have specialized in illuminating Bibles historiales. For projects of such immense picture cycles, the master and his collaborators worked by producing variations based on an inventory of models. The attractive compositions focus on clear narration of the stories and their figures, so they never cease to be lively and engaging.
Being a good instructor was in the Middle Ages not any easier than it is today. Many educators may have been be facing the difficulty of balancing content and maintaining students' interest. This lavishly illustrated manuscript shows that a combination of texts and images could make teaching ànd learning entertaining and flourishing.
Read more about this manuscript in our Spotlight on Paris, and in our Spotlight on Virtue.
Back to list